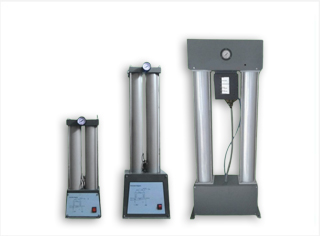 Air Dryers : A Compressed air system equipped with an adequate aftercooler, removes approximately twothirds of the moisture. That remaining one-third washes away all your efforts. It is always wise to size a dryer to your maximum requirements, and perhaps include some extra capacity for potential expansion of your pneumatic operations. Nowadays on site plumbing has become so costly that future expansion of compressed air use should be considered. For economy of operation it should be noted that the larger the dryer, the lower the cost of drying per CFM.
Application :
 Industrial applications where ultra-dry air or very low dew point (-40*F pressure dew point) is required.
 Installations where downstream air systems are exposed to ambient temperatures down to – 40*F(-40*FC).
 Pneumatic instrumentation and controls.
 Paint spraying, plastic and epoxy coatings, powder coating.
 Engineering and scientific laboratories.
 Controllers, transmitters, valve positioners, operators, air bearings and air motors.
 Audio-Video cassette rewinding machines/CD Plants
 To protect Actuators.
 Controllers, transmitters, valve positioners, operators, air bearings and air motors.
Features :
 Wide range of sizes to suit your requirement 10,25,50,75,100,125,200,and many more.
 Heated Low Purge models are available for capacities from 200 CFM to 5000 CFM.
 Caliberated needed valve to adjust purge flow to actual outlet flow and pressure conditions.
 Overlapping cycle time to provide constant downstream pressure and dew point.
 Normally open shuttle valves allow constant air flow through dryer even in electricity Failure.
 Integral wall mounting models are available to save floor space.
 Easy installation – just make the air connections and plug in the electrical power cord.
 Lightweight and compact.
 Inlet and outlets are from top where as purging is from down.
 Facilitates the water flusing out during purging.
 Trouble free and reliable performance.