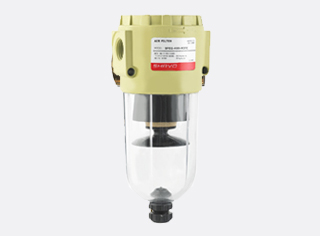 If your industrial building, vacuum cleaning system, or any other equipment requires a system to supply clean and pure air downstream, you should mount citation air filters. Filters are specially designed devices to remove molecular contaminants and solid particulates to improve air quality in an environment or a system.

Shavo citation series air filters provide positive results by removing solid and liquid impurities from compressed air systems completely. These filter devices also have interchangeable automatic or manual drains.Moreover, the filters possess polycarbonate bowls in a threaded form to allow in-line filter cleaning without any hassle.

The prime characteristic of any citation series air filter lies in its ambient operating temperature. Accordingly, these filters may have the highest operating temperature of 50 degrees Celsius with PC Bowl and 80 degrees Celsius with Metal Bowl. Depending on specific requirements, one can also choose.
Citation type of air filters by Honeytech Controls Pvt. Ltd. also possesses diverse maximum inlet pressure. These include 150 PSIG with a PC Bowl regardless of the manual drain, semi-automatic, and automatic drain. However, the inlet pressure may go up to 250 PSIG with a manual drain metal bowl but remains only 150 PSIG with semi-automatic and automatic drains in the case of a metal bowl.The filters have a standard nominal rate of flow at the supply pressure of 6 bar with 1 bar of pressure drop only.

Like any other air filters, filter products available under the category of the Shavo citation series are recommendable for almost every application that involves the use and supply of clean air. A few common locations and devices, which use citation air filters are gas turbines, cars, vacuum cleaners, industrial buildings, air conditioners, food processing systems, and clinics/hospitals.

Our professionals at Honeytech Controls Pvt. Ltd. offer a wide range of citation air filter products for your commercial buildings and other industrial requirements. If you want to get details, visit our official website.
FEATURES :
 Shavo's foremost Filter - Citation Series - offers positive, complete removal of liquid and solid impurities.
  Interchangeable manual or automatic drains.
  Threaded Polycarbonate Bowls for easy in-line cleaning.
Parameters
Specifications
Pipe Threads
Rc 1/4, 3/8, 1/2, 3/4 Taper (F)
- Standard
BSP / NPT
- Optional
Filter Element Size
5, 25, 40 micron.
Element Material
Sintered Bronze
- Standard
Plastic (Polypropylene)
- Optional
Body Material
Al. Alloy die-cast
Bowl Material
Transparent Polycarbonate
- Standard
Al. Alloy Metal with sight glass
- Optional
Maximum Inlet Pressure
with P.C. Bowl Manual Drain, Automatic Drain and Semi-Automatic Drain
: 150 psig (10.5 bar)
with Metal Bowl Manual Drain
: 250 psig (17.5 bar)
with Metal Bowl Automatic Drain and Semi-Automatic Drain
: 150 psig (10.5 bar)
Maximum Operating Temperature (ambient)
with PC Bowl
: 50° C (125° F)
with Metal Bowl
: 80° C (175° F)
Standard Nominal Flow Rate At 6 bar (87 PSI) supply pressure and 14.5 PSI (1 bar) pressure drop
Rc 1/4
80 scfm (38 dm3/ sec) CV (1.50)
Rc 3/8
175 scfm (83 dm3/sec) CV (3.30)
Rc 1/2
306 scfm (146 dm3/sec) CV (5.70)
Rc 3/4
430 scfm (205 dm3/sec) CV (8.10)
Drain
Manual
- Standard
Automatic
- Optional
Bowl Guard
Optional
Mounting Facility
Optional
+ Values indicated are with 40 micron elements, with finer elements these values will be lower.
Note: Automatic Drain and Semi-Automatic drain available with Nitrile Elastomer Only.
OPTION SELECTOR :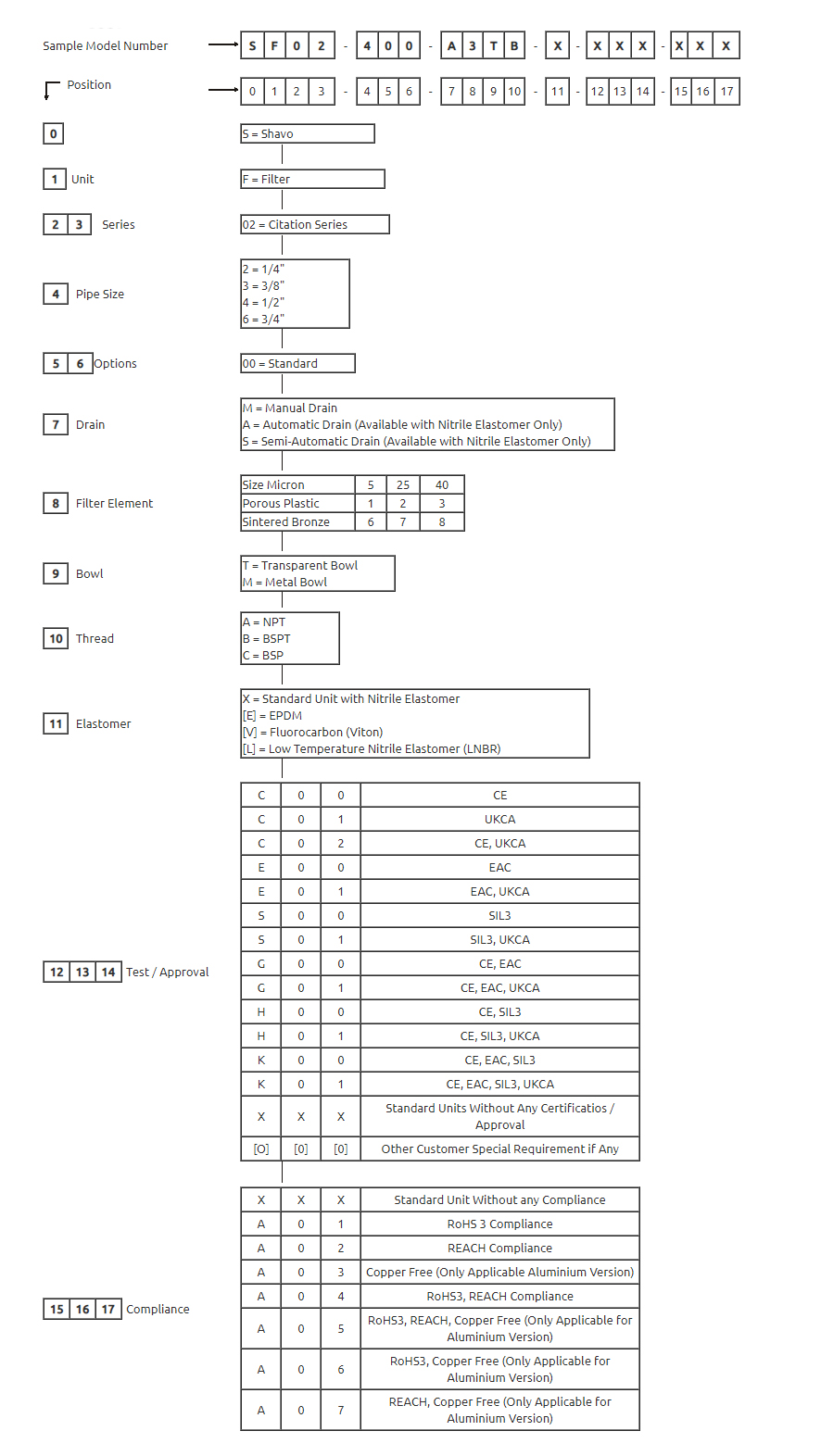 Note: Option shown in the [ ] bracket are special, Please contact Sales HQ/Manufacturing.