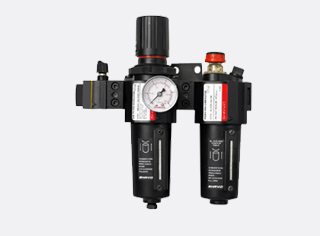 Does your industry need an advanced system to clean the air emitted from compressor systems? You must install combination units, which consist of two components referred to as a filter lubricator and a regulator. Compressor devices emit wet, hot, and dirty air from them that may cause damage or reduce the lifespan of the connected downstream equipment, like cylinders, valves, and air tools. Hence, users must clean and lubricate the compressed air before it exits the connected equipment. In this situation, the combination of lubricator and filter regulator by Honeytech Controls Pvt. Ltd. makes sure that the air compressor systems stay in optimum working condition.

Shavo Combination Units are modular styles of air preparation devices. They consist of a combination of lubrication and a filter regulator connected by a mounting bracket.These units clean air content, oil, water, and suspended debris to regulate the downstream pressure.Simultaneously, the combination of regulator and filter lubricator injects a micro mist lubricant into clean air to increase the life of air tools and other machines.Easy-to-deliver service and installation is the prime feature of Shavo combination units. Moreover, every unit of the filter regulator and lubricator combination has a mounting bracket, auto drain, gauge, and polycarbonate bowl guard equipped with a sight glass.
Other than that, the combination of lubricator, filter, and regulator has a lubricator flow sensor to provide a constant oil-to-air ratio across diverse air flows. Secondly, the unit has a regulator balanced valve that reduces the effect of variation on the outlet and the inlet pressure. Combination units have found wide applications in compressed air systems to supply clean, lubricated, and regulated air to pneumatic actuators, control valves, HVAC systems, pneumatic tools, and related downstream systems.

We at Honeytech Controls Pvt. Ltd. supply customized and top-quality combination devices to install in the compressed air systems of your industry. For further details, visit our website.
FEATURES :
 Combinations of filter-regulator and lubricators can be ordered as pre-assembled units
 Complete control of filtration regulation and lubrication at a single point
 Quick release bayonet bowl
 Compact modular design
 Micro-mist versions for most general purpose pneumatic applications
TECHNICAL DATA :
 Medium: Compressed air only
 Inlet pressure:
Transparent bowl: 10 bar max
Metal Bowl: 17 bar max
 Ambient temperature:
Transparent bowls : 50°C
Metal bowl: 80° C
 Consult our Technical Service for use below +2°C
MATERIALS :
 Body: Aluminium alloy
 Bowls: Polycarbonate/Aluminium
 Bowls: Polycarbonate/Aluminium
 Elastomers: Nitrile
ACCESSORIES :
 Wall Mounting Bracket
 Shut-off Valve
 40mm Pressure Gauge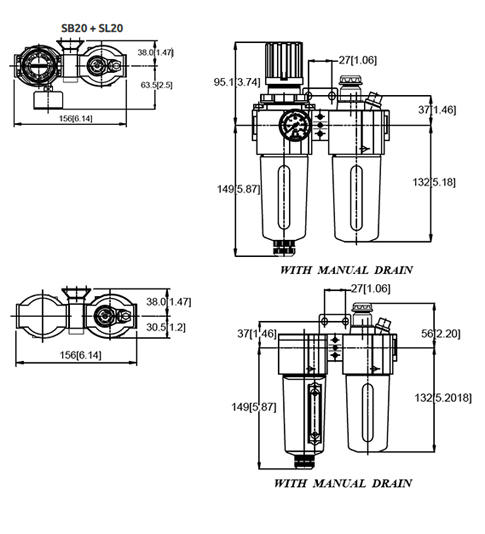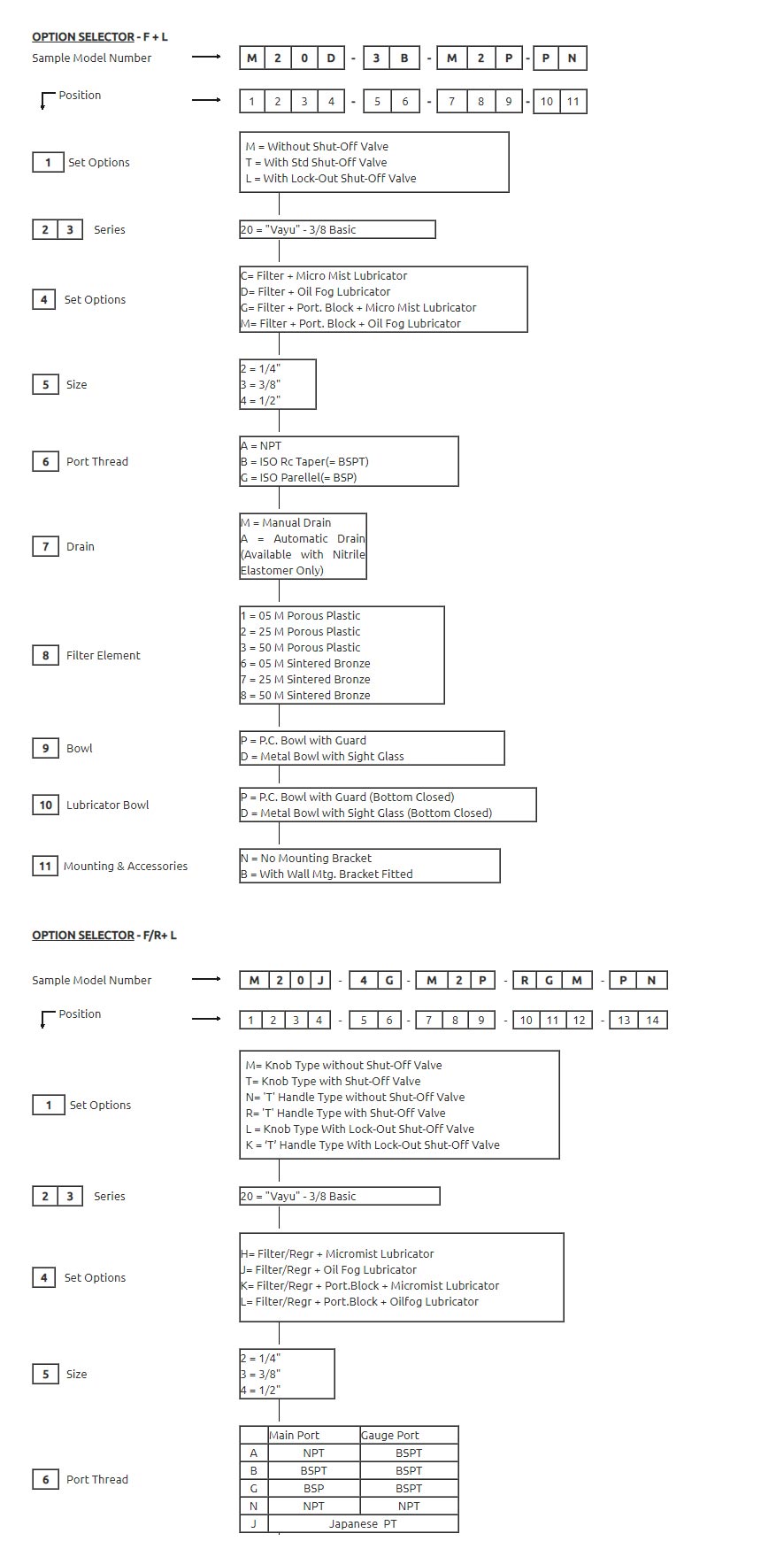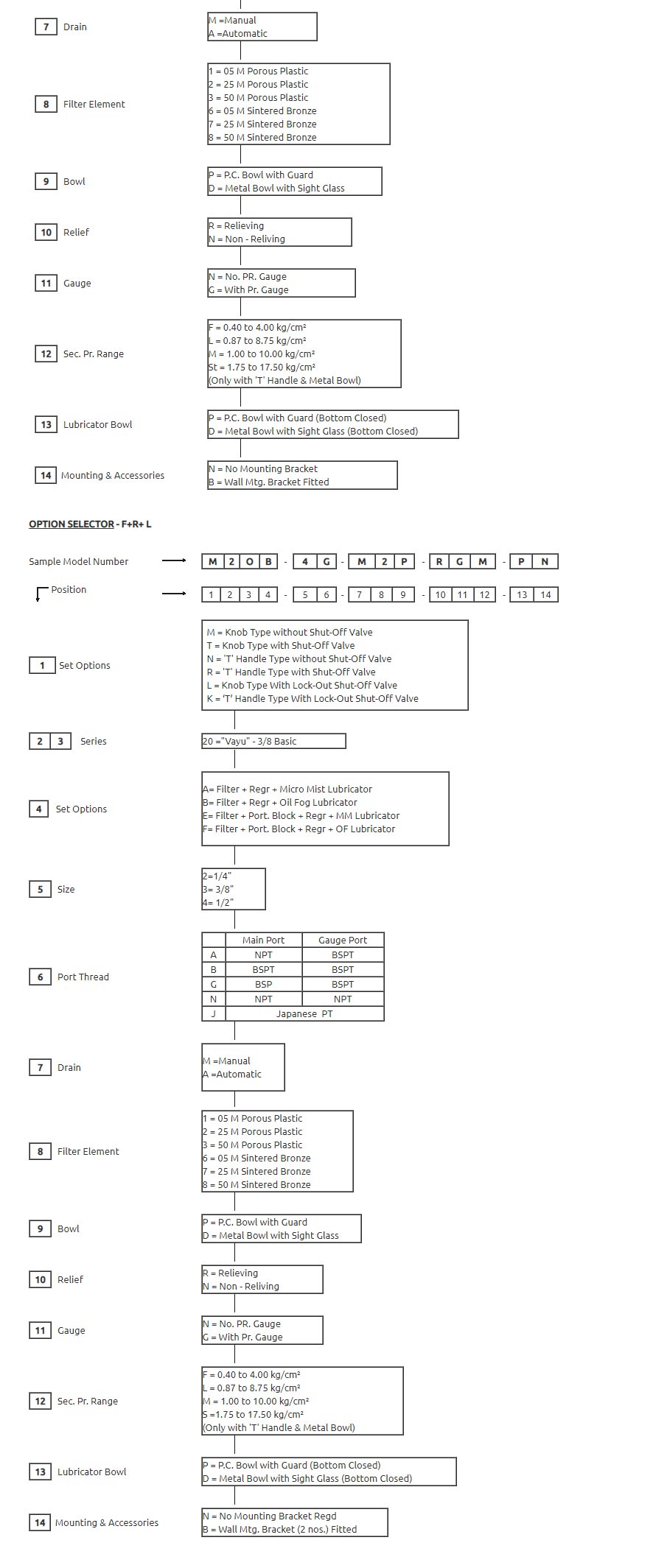 Note: Option shown in the [ ] bracket are special, Please contact Sales HQ/Manufacturing.