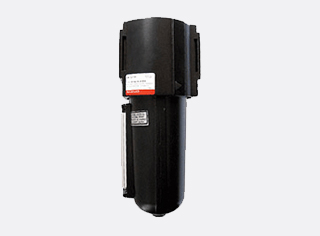 FEATURES :
  Shavo's VAYU Series Large Flow Range general purpose Filter removes upto 99% of the liquid water
  Design of the filter elements gives both surface and depth filtration for cleaner air
  Ideally suited for header lines and large flow rated tools and cylinder operations.
Parameters
Specifications
Pipe Threads
G ¾, 1, 1¼, 1½ Parallel (F)

- Standard
NPT/BSPT
- Optional

Filter Element Size

40 micron (std) : 5,25 micron (Optional),

Element Material
Plastic (Polypropylene)

- Standard
Sintered Bronze
- Optional

Body Material

Al. Alloy die-cast

Bowl Material
Al. Alloy Metal with sight glass
- Standard
Maximum Inlet Pressure
with Metal Bowl Manual Drain
: 250 psig (17.5 bar)
with Metal Bowl Automatic Drain and Semi-Automatic Drain
: 150 psig (10.5 bar)
Maximum Operating
Temperature (ambient)

80°C (175°F)
Standard Nominal Flow Rate
at 87 psi (6 bar) supply pressure and
14.5 psi (1 bar) pressure drop
3/4"

: 740 scfm (349 dm³/sec) CV(13.96)
1 to 1½
: 880 scfm (415 dm³/sec) CV(16.60)
Drain
Manual

- Standard
Automatic
- Optional
Sem-Automatic
- Optional
+ Values indicated are with 40 micron elements, with finer elements these values will be lesser.
Note: Pressure gauge will not have the CE, EAC, SIL3 & NACE MR0175 approval.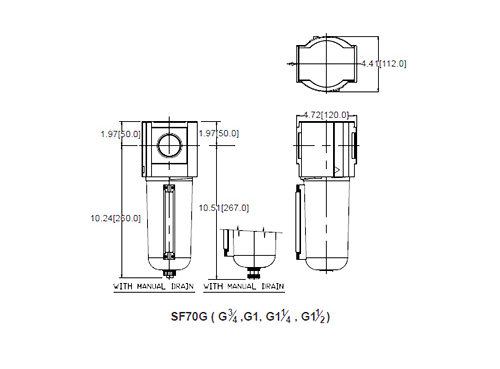 Size
Flow (dm3/s)
Element (um)
Drain
Bowl
Model
G3/4
740 scfm
(349 dm³/sec)
40
Auto Manual
Metal
Metal
SF70G-6G-A3DN
SF70G-6G-M3DN
G1 1/2
880 scfm
(415 dm³/sec)
40
Auto Manual
Metal
Metal
SF70G-BG-A3DN
SF70G-BG-M3DN
OPTION SELECTOR :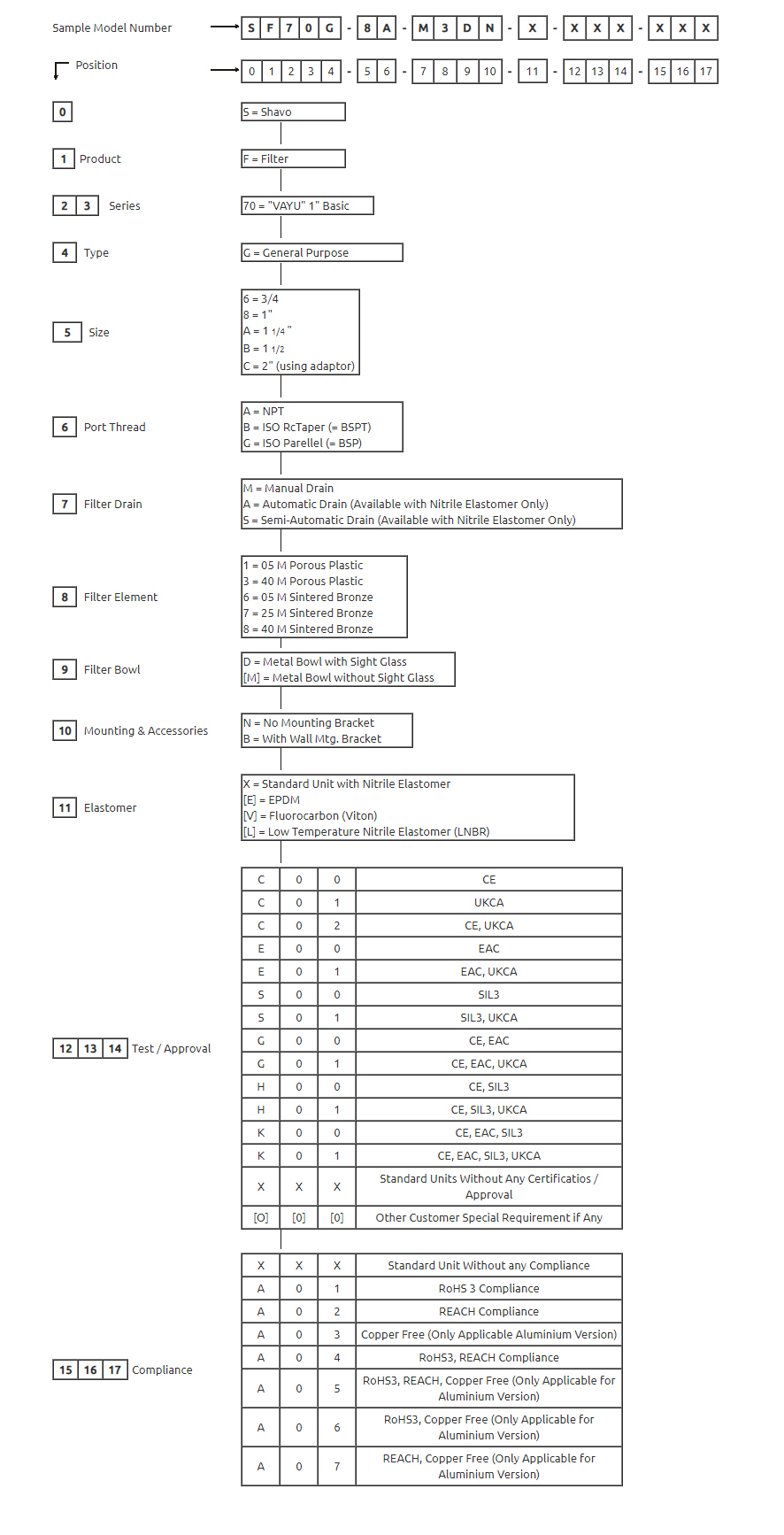 Note: Option shown in the [ ] bracket are special, Please contact Sales HQ/Manufacturing.